Tanya Desfontaines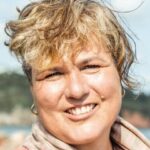 Tanya began her career as a British NHS physiotherapist at the Royal London Hospital, exploring many traditions and modalities of holistic health before retraining as a Biodynamic Craniosacral Therapist in 2007. Life events including relocation to Devon, the birth of children, recovery from illness and bereavement, and shamanic studies have all played a part in her journey of personal healing and spiritual growth.
Tanya's teaching weaves together the cultivation of heart-centred presence and mindful awareness, trauma-informed relational and somatic skills and a profound appreciation of the Intelligent forces and processes of Life.
She is an accredited supervisor and international teacher of BCST, most recently holding a foundation training as senior tutor and course co-ordinator at the Karuna Institute, Devon. She lives with her family in Dartington, South Devon, UK where she also maintains a lively private practice.
The Biodynamic Post-Graduate Series that Tanya is teaching at PCSA form a comprehensive grounding in Craniosacral Biodynamics as developed by Franklyn Sills at Karuna Institute. These courses are suitable for graduates of PCSA and other schools, and cover the essential territories in Parts 1-4, which together constitute a Post-Graduate Diploma. Additional Post-Graduate courses include seminars on Trauma, Birth and The Heart.
Tanya Desfontaines BSc (Hons) MCSP SRP RCST BCST